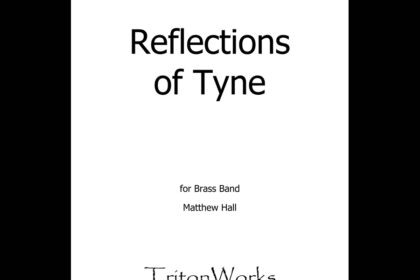 Reflections of Tyne, commissioned by the NASUWT Riverside Band for their performance at Brass in Concert, 2019, is now available to purchase via the TritonWorks webshop. Reflections of Tyne is available to purchase as Score & Parts, Score only but also now available as a downloadable product in pdf format, meaning it's even easier to get hold of the music to play!
Reflections of Tyne combines two traditional songs from the North East of England into a rumbustious concert or contest finisher full of flair and excitement.
The Waters of Tyne and The Cliffs of Old Tynemouth blend in the opening reflection of the stillness of the River Tyne before the industrial heritage of North East England is forces its way on to the landscape as the pace and intensity doubles almost instantaneously. A calmer, contemplative, solo passage precedes the final energetic climax in a vibrant musical rendition of the North East as we know it today, with the Tyne as important now as it ever has been.